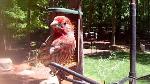 Finch Titmouse and Downy Woodpecker Enjoying the Suet Feeder shorts
This chart shows a European green woodpecker and a black woodpecker. For sale here is an original vintage roll down school chart of.
Vintage woodpeckers school chart educational wall chart zoology birds nils tiren
there can often be light wear that comes with use on these charts, however this chart is in very good condition, there are some signs of light wear and some very tiny tears.