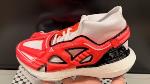 Adidas Stella McCartney Ultraboost 22 Elevate Turbo Womens Shoes
Size 10US / 8.5UK / EUR42.6 / CM27. Dont miss out on these beauties.
Adidas ultra boost asmc x stella mccartney women (10us) run training designer
made with recycled plastic materials, the adidas by stella mccartney ultraboost sandal is the perfect mix of style and function, with nods to both stella mccartney's sleek visual identity and adidas' performance-first design approach.